I'm not usually one to get ultra prematurely excited for Christmas. But this year, something's gotten into me, and I was ready to start adorning the mantel with garland the moment Halloween was over. The housemates and I agreed to wait until after Thanksgiving, but that hasn't stopped me from pinning a zillion holiday decor ideas in the meantime. Here are some style moodboards I've put together in preparation for the upcoming season.
1 // 2 // 3 // 4 // 5 // 6 // 7
Dreaming of a Natural Christmas - I know I don't have to tell you, but I am not a red-and-green-and-plastic-santas kind of xmas decorator. Instead, I like bringing natural elements into the house (scrap cuttings from the tree farm, pinecones, branches) and wrap all my gifts in brown Kraft paper with jute twine and a sprig of pine.
Get the Look - This is such an easy (and potentially free) look - which is why it's always my favorite. Gather pinecones to display on your shelves, in a bowl, or even make your own ornaments. Take home scrap cuttings from the tree farm (most trimming stations have a trash bin they'll gladly let you scavenge from) and stick them in vases or make your own natural wreaths and garlands (check out Molly's DIY triangle wreath tutorial).
1 // 2 // 3 // 4 // 5 // 6
Sugar, Spice, & Fur - I love the warm cozy vibe of glowing candles, deer pelts, and deep brown tones everywhere. Makes me want to bundle up under a fur throw and sip chai by the fireplace while waiting for a batch of gingerbread cookies baking in the oven.
Get the Look - Okay, maybe this look is a bit dreamy and out of budget for most. But if you've got it, arrange luxurious natural elements like pelts, antlers, drift wood, and feathers around the house. Collect an assortment of candles and votives. And of course, constantly have fresh baked cookies lingering in the air.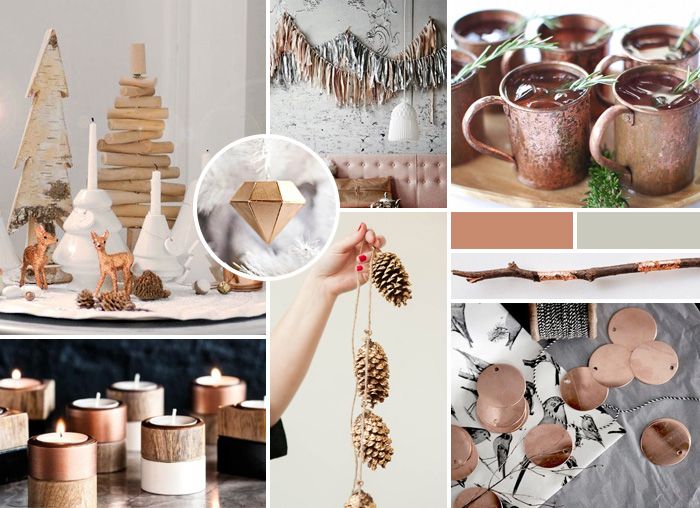 1 // 2 // 3 // 4 // 5 // 6 // 7 // 8
Glitzy Copper Christmas - Dave and I have been obsessed with copper this year. It seems to be popping up everywhere now, so why not try to incorporate some penny into our Christmas look?
Get the Look - A few metallic accents can really go a long way. Try Rachel's DIY copper foil branches or check out this super easy DIY for glamming up those tea lights you probably have a million sitting in a junk drawer. It's also always good to have a can of metallic copper Rust-Oleum around to give a spray paint makeover to any kitschy Christmas figurines you might find at a thrift store.

Hope some of these ideas have inspired your Christmas decorating style for this year! I'd love to hear your favorite looks or crafty DIYs for the holiday season. Let me know in the comments below or on Facebook!