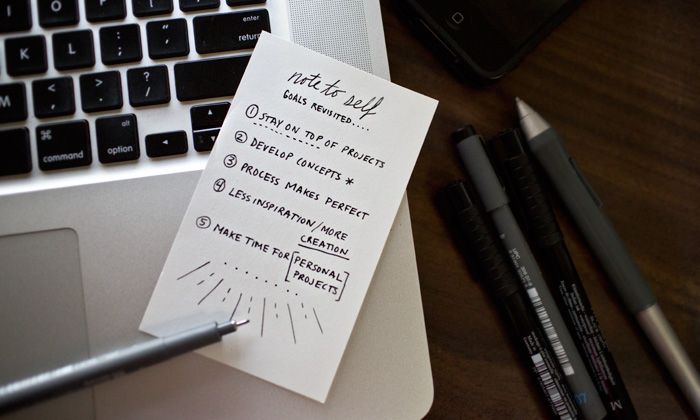 My fourth year at university is officially over! This has been one crazy semester, jam-packed with learning, growth, and definitely a lot of stress. At the start of the semester, I made a few goals for myself, and if I'm being honest, I only met 1 and a half of them. But mistakes are lessons in disguise, as they say. I've definitely learned A LOT this semester – about things I want to improve and things I want to avoid doing again. Here are just a few:
1 // Stay on Top of Projects.
And exercise better time management. I set out to keep one step ahead on everything because I knew stressing to the last minute handicapped my workflow and creativity. But sure enough, I got lazy and fell behind on my largest semester project. I ended up finishing half a semester's amount of work the night before the project was due. While I still got an A, I wasn't happy with the end result and it's not something I'm proud to show off. In such a competitive industry where every project you work on should have the potential to be portfolio-worthy, you have no time to be wasting and creating mediocre projects that don't showcase your best efforts.
2 // Develop Concepts.
Spend more time building a strong theme first before any initial design or layout takes place. My instructors kept telling us, "You can be a skilled designer, but if you don't have a strong concept in mind, you're just pushing pixels around."
3 // Process Makes Perfect.
I wrote about this
once before
, and I'll say it again. Process is incredibly important, not only in the development of the project, but also when later displaying the work in a portfolio. Potential employers or clients want to see how you work, how you get from point A to point B, and what goes on in your head when you're creating. Sketch A LOT, try out multiple solutions, and document everything. While browsing through the senior portfolio gallery, I was most impressed by the books that showed off great preliminary work over the ones that simply had nice-looking final designs.
4 // Spend Less Time Searching for Inspiration and More Time Creating.
This is a big lesson that I'm still working on. It's safe to say I'm addicted to browsing design inspiration sites. While there's nothing wrong with seeking a little creative stimulation, how much time are you spending looking at other people's work versus creating your own? Be intentional about your search for resources and then make a conscious decision to sign off and start sketching what's in your own head.
5 // Make Time for Personal Projects.
This was one of my goals I made at the beginning of the semester that I really failed hard at. And my creative sanity definitely suffered as a result. Most of the top designers today know the importance of making time for yourself apart from your client work. My packaging design instructor went to the TYPO conference in San Francisco last month and came back super inspired by designer
Erik Kessels' keynote talk
. If you have an hour to spare, I highly, highly recommend watching it
here on typotalks.com
. His self-initiated projects were full of passion, experimentation, and creative freedom, and in turn they fueled his commissioned work.
-----
I'm already putting these lessons into action now so I can make the most of my final semesters. Only one more year of school to go!
What have been the biggest lessons you've learned this semester? Did you stick to any of your goals?