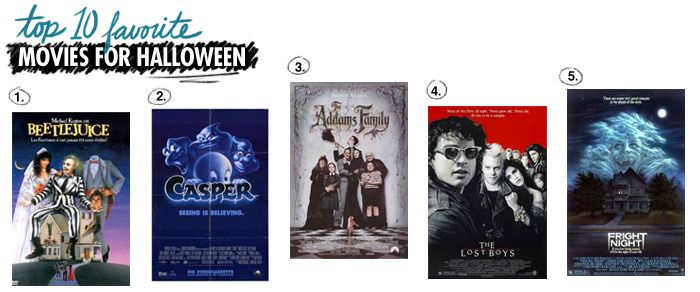 I consume cheesy horror movies and cult films all year round, but Halloween is the one time of year where my choice in bad movies is especially welcomed. I've compiled a list (in no particular order) of my favorite must-see movies to watch during the Halloween season and why I love them.
1. Beetlejuice.
The characters alone are reason enough for me to be infatuated with this Tim Burton masterpiece. My love for this movie is unsurmounted by any other. It's become a yearly ritual to watch Beetlejuice while carving pumpkins, and that's a tradition I plan to pass down to my children.
2. Casper.
It's hard to believe this came out when I was 4-years-old (that oughta make you feel ancient). I remember being captivated by it playing on the tv at Costco and begging my mom to buy it on VHS for me. I wanted to be Christina Ricci so badly, and as a child, I didn't play dolls or tea party; I played ghosts. I suspect this movie may have been the secret formula for making me the way I am now…
3. The Addams Family.
Another kid-friendly classic for those who like a little strange without all the scary. My heart bubbles over like a cauldron filled with dark joy every time I watch this movie.
4. The Lost Boys.
Probably the best vampire movie of all. Rebellious 80s teen angst, glam goth biker vampires, soundtrack way ahead of its time, and Kiefer Sutherland. Need I say more?
5. Fright Night.
Another 80s classic chock full of vampires and old school gore f/x. If you're not into old 80s horror movies (shame on you), the remake is pretty terrific as well (can't go wrong with David Tennant).
6. The Thing.
I think this movie takes the cake for being the greatest horror sci-fi ever created (and I can't stress that enough). The old school latex special effects and splatter gore throughout this film is truly legendary. And if you're a horror geek like me, you rate all other movies of its genre on a scale of 1 to
The Thing
.
7. Poltergeist.
Classic must-see-in-your-lifetime horror movie posted without further comment.
8. Dead Alive.
As the bloodiest goriest movie in horror movie history, Dead Alive reigns supreme. Over 1,000 gallons of fake blood, and 300 liters in just the final scene alone, were used in the production of Peter Jackson's outrageous zombie film. And that's why I've watched it so many times to the point of memorization.
9. From Dusk til Dawn.
George Clooney, Quentin Tarantino, Robert Rodriguez, vampires. Enough said.
10. Let the Right One In.
This is the only "serious" movie I have on this list. I'm usually a sucker for horror movies that are so bad they're funny, but this foreign vampire film is beautifully created and so hauntingly captivating, I recommend it to anyone who
thinks
they don't like horror movies. Pure art. (If you're too lazy to read subtitles, the American remake is similarly brilliant.)
What movies do you have on your Halloween list?