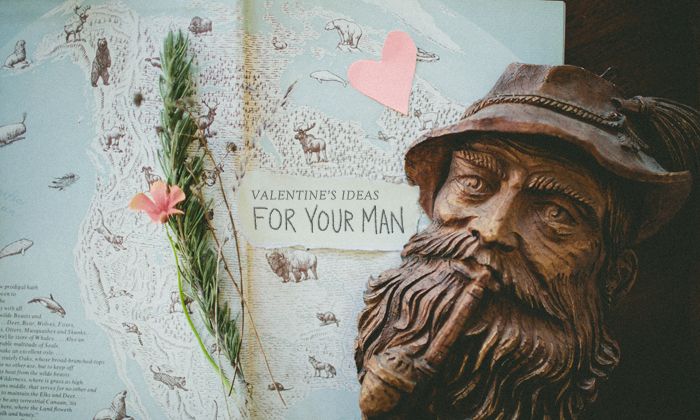 Valentine's day is fast approaching and you might be scrambling to make plans for your special someone. I've asked my amazingly helpful boyfriend Dave to put together a list of a few easy things my lady followers can do for their men this V-Day.
-----
As a man with a lovely lady to dote on, I take great joy in treating Corinne to unique Valentine's surprises each year. Our society puts a lot of emphasis on what guys should do for their gals on Valentine's day, but little thought is given to what ladies can do for their gents. (Mainly because us guys are pretty easy to please.) But in case some of you girls are at a loss for ideas to treat your man, here's a list of 5 simple Valentine's day activities (most) every guy can enjoy:
1. Record Shopping.
Take him to a local record store and pick out vinyls. Browsing through music is a great way to bond and share interests together, and it's also an easy way to get him a gift you know he'll love.
2. Wings and Beer.
I love wings. I love beer. Simple enough. The way to a man's heart is most definitely through his stomach, so treat your guy out to some grub he loves.
3. Make Him Something.
Homemade gifts are always the best. Throughout our relationship, Corinne has made me several hand drawn cards, a
photo book of all our memories
, and even a hand sewn
doll of myself
(haha). It doesn't matter how DIY-savvy you are; handmade gifts are memorable and usually the most thoughtful.
4. Go Outside.
Chances are, if he's cooped up all day "makin' da monies" at work, having some time with his special someone outside in the fresh air will make for relaxing fun and conversation. Take a hike, pack a picnic, or go for a walk on the beach.
5. Physical Affection.
I'm simple to please, and while all of us have our different love languages, physical gestures of affection are always appreciated. My personal favorite is when Corinne scratches and massages the back of my neck while we're driving. So even if you don't have the budget for a flashy gift or extravagant date, you can still show your guy some love.
These are just a few things that would make for a great Valentine's Day and hopefully they help inspire or remind you of other things your guy will like too! Ladies, what are some things you like to do for your man? And guys, what do you appreciate from your girl?