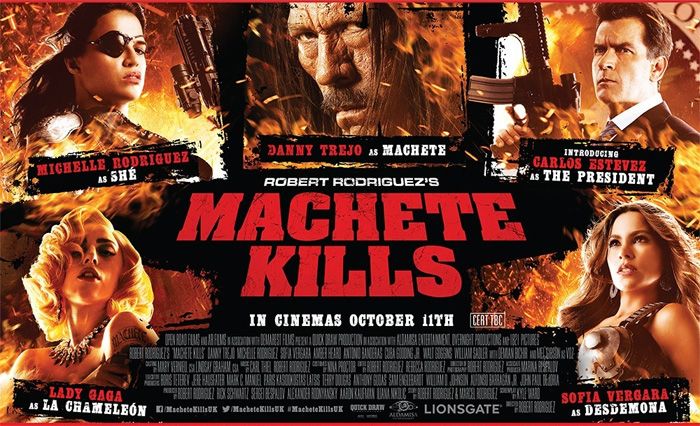 Sofia Vergara in a machine gun bra, Charlie Sheen *ahem* Carlos Estevez as the President of the United States, a reappearance by my favorite cult icon Tom Savini, and Danny Trejo. Need I really say anymore? I've been waiting for this latest piece of modern grindhouse art by Robert Rodriguez to finally hit theaters for way too long – far longer than anyone should ever actually anticipate a B-movie premiere (then again, I need not remind you of my incredibly low standards and impeccable taste in bad movies). All of that to say: I'm kind of a big fan of the Machete franchise. With that said, I have a few bones to pick with Machete Kills.
This time, Machete is recruited by the President on a mission to stop a crazy split-personality revolutionary from launching a missile at the United States, for which the detonator is attached to his heart. Just wait; it gets kookier. The real villain is a Star-Wars-loving terrorist armsdealer with an evil plan to create weapons and lead worldwide destruction in space (cue part 3: Machete Kills Again… In Space).
Again, bear in mind my low standards. Here's what I loved: I'm a mega-fan of Rodriguez's over-the-top female characters in badass – albeit completely impractical – battle costumes. Sofia Vergara put on a total nut job performance and her character Desdemona by far had the most ingenious weaponry (anyone else get super excited about the cameo of Sex Machine's crotch gun from From Dusk Til Dawn? Just me? Okay.). Lady Gaga was also pretty awesome as La Chameleón. I only wish she had gotten more screen time (otherwise you probably would've most definitely seen me cosplay her in that wolf skin next SDCC). My love of this particular installation pretty much stops at the characters, costumes, and surprise actors.
As a huge fan of Rodriguez's original grindhouse homages, I was a little disappointed by how far this sequel deviated from that gritty 70s exploitation film style. The 2010 Machete was dusty and trashy, just like the original mock trailer from Planet Terror that started it all. Maybe it was the transition to a futuristic, hyper-techy setting; but save for a few clever implementations of grindhouse nostalgia, the rest of the filming style just felt disjointed from that old idea and more like a campy spy movie from the early 2000s. Also, I'm a total snob when it comes to special fx and gore, but the CGI in this film just seemed lazy. Early exploitation films were created with the sole purpose of satiating the public's lust for sex, violence, and uncensored mayhem. Today, there's really no excuse for sloppily computer-generated blood (unless you're making Sharknado). And I especially don't want to see a close-up kill scene of shoddy digital gore. C'mon Rodriguez! You know better than that!
All in all, I was entertained, if just a little disappointed. I didn't love it like I loved the original, but it served Dave and I well for a matinee date day. I try not to take these things too seriously since they are after all intended to be bad in good fun. I'll definitely be in line to see the next one, but I won't be adding this one to my personal DVD collection of delightfully bad movies.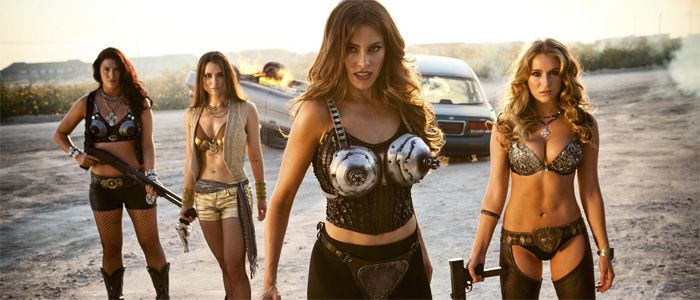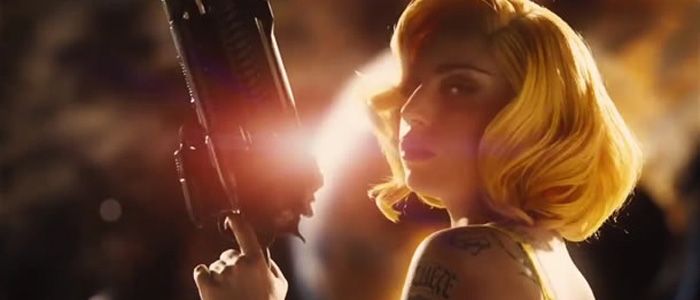 Seen it yet? What did you think? Let me know in the comments!