Amidst wrapping up this final semester of design school, compiling and reworking projects for my portfolio before the spring show, designing lots of work for current clients, and trying to plan a wedding, blogging has fallen way WAY low on my priority list.
Since setting my blog to the side, life has sped up exponentially. Weeks go by like days and the month is gone in a blur. Before, blogging gave me an opportunity to reflect on each day and slow things down just enough to see what was going on around me. Lately I've been keeping my head down, chiseling away at the mound of responsibilities, never taking a step back to appreciate and admire what I've accomplished. And it's sort of depressing.
While I definitely do not have the time to blog nearly as frequently as before, I want to make the time to reflect, make the time to appreciate all I've managed to accomplish, make the time to enjoy this incredibly busy yet exciting season of life. So much is happening right now and I want to be able to look back on it with clarity and fond memories, not workaholics amnesia.
All of that to preface, life has been so good! My studio courses are pushing me to grow as a designer, and I've been bringing a whole new level of professionalism to my freelance work. I'm working on a bunch of client projects and revamps of old personal projects I can't wait to share. Wedding planning is starting to get crazy. I just got our save-the-date postcards, am finishing up our wedsite, and finally picked a dress! Our super ridiculously awesome church has had so many incredible world-renowned guest speakers lately (Ben Donovan of Generation Church in Manchester; Brian Houston of Hillsong in Australia; Phil Pringle of C3 in Sydney; Greg French of C3 in Oxford Falls, Sydney) and it's left me feeling so pumped the last couple weeks. Oh, and my 23rd birthday was this month. Still working on a new 23 before 24 list (if I ever get make the time to finish it). More to follow. :)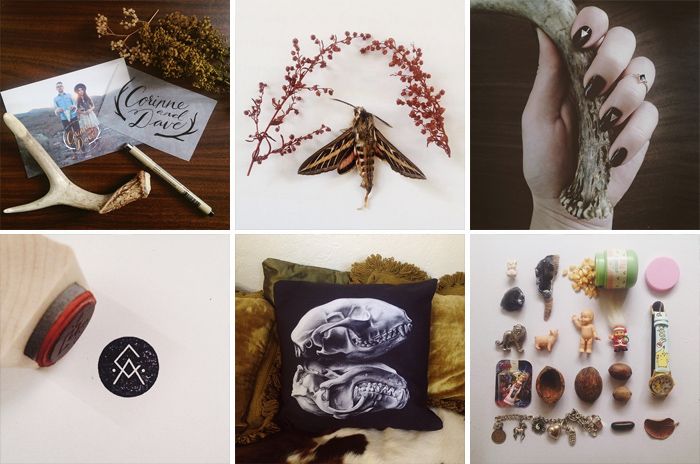 In An Instant: 1// Designed our save-the-date postcards and even shot our own engagement photos. Either I'm a DIY lunatic, or I have control issues… 2// A squished white-lined sphinx moth. Thinking of getting some entomology pins to start preserving these kinds of finds. 3// Pretty proud I managed to finish painting my nails without messing them up once. 4// Got my new logo made into a rubber stamp a few weeks back and I'm super stoked on it! 5// Ordered a pillow with my charcoal drawing on it from Society6 and love the way it turned out! 6// Relics from my childhood. The strange, contextless things I kept in a jewelry box when I was a kid.
Links I'm Loving:
• On Being Busy - The House That Lars Built
• American Horror Story Announces the Season 4 Theme - FearNet (So freaking excited!)
• The Commitment Phobic Creative - Braid Creative (I'm guilty of so many of these, but I'm working on it!)
• Do Something You Love - On Eating Elephants (Really loving my friend's new blog project. Super inspiring!)
• Coaching for Creatives: Behave Yourself - And Kathleen (Behave like what you want to be and you will be)
Words of Wisdom: "Worrying does not empty tomorrow of its troubles. It empties today of its strength." - Mary Engelbreit
-----
Hope everyone has been having a great last couple weeks! :)